Transcript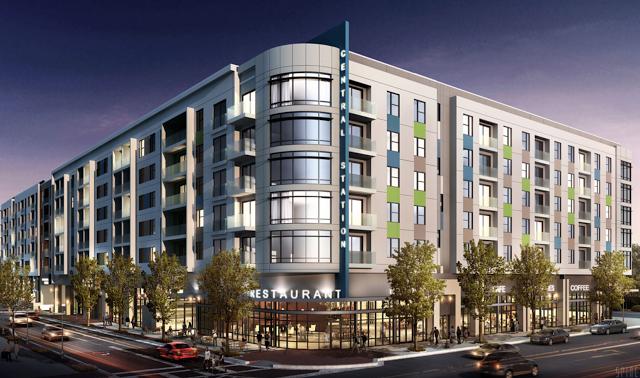 for Episode 16: "It's Mark Baratelli and hey let's cut the crap eh? Let's cut the crap, drop the fanfare, put down the horns, light the lights, raise the curtain, breathe the air, schelack the ornaments and let's GET – TO – THE -NEWS!
Brian Grandstaff of Millenia Partners, Mary Ashy and Maria Bonomo, individual brokers and consultants, and DoveCote owner Clayton Miller were scheduled to open a 5,000 sq ft food hall inside Maitland City Centre called Spindrift Food Hall. Originally when they announced it, they said it'd be "an ideal fit based on lack of foodie competition."
Did you hear that? They said Maitland has a lack of foodie competition.
But now it seems there'll be a lack of food hall competition. Spindrift Food Hall isn't coming. The Grandstaff/Ashy/Bonomo/Miller team blame restaurant oversaturation in the area as the reason for not opening. They claimed there were too many new projects hitting the market at the same time.
Excuse me. The only new "foodie competition" projects that've come to the quote "lack of foodie competition" Maitland area are Lukes, Teak and a new friggin' Zoe's Kitchen.
So there's STILL a lack of foodie competition, Grandstaff/Ashy/Bonomo/Miller! !!. The HELL are y'all talking about? This in my opinion is a damn lie. If Grandstaff/Ashy/Bonomo/Miller didn't think they could survive in the the cut-throat dog-eat-dog here-today-gone-tomorrow take-no-prisoners food scene of Maitland then the closing-before-opening choice of Grandstaff/Ashy/Bonomo/Miller is understandable. Chicken shit alleged liars.
A planned development rezoning request for a 10 unit rear-loaded, 3-story townhome development at 544 N. Bumby Ave was submitted to the City of Orlando Municipal Planning Board by Ray Design Development LLC. The land is located across from the Colonial Plaza on a rather desolate but prime stretch of Bumby. The developer does "design develop" which means Acquire under-utilized properties. Design, market, construct and sell) and he does "design sell" which means Acquire under-utilized properties. Design and market Conceptual Design Package that's gone through initial City reviews to confirm design compliant with Zoning and Planning requirements). So this Bumby Avenue 10 unit rear-loaded, 3-story townhome development could either be just a product on paper he puts together for someone to buy or he could build it himself. It's not known at this time.
SODO is back in the news again! A Panera Bread drive thru location is coming to SODO on the former East Coast Wings & Grill property at 3138 Orange Ave. The site is across the street from the huge mixed use development called Southside Shops. Built in 2004, the soon-to-be Panera building has 3,900 sq ft. and 52 parking spaces. Commenters on the story say the Panera catty cornered across the street is closing and moving into this new location.
Park Hill is a new Winter Park development featuring 10 three-story townhomes priced at $2.6 million to $3.2 million on roughly an acre at the southwest corner of North Park Avenue and Whipple Avenue across the street from the Winter Park Country Club and Casa Feliz. It's like the Bumby Avenue 10 unit 3-story townhome development minus the poor people.
The homes are situated on the former 18-unit Spanish Oaks Apartments and the eight-unit Golfview Apartments, both built in the 60s and 70s. The developers paid $5.2 million for the property
Seven of the 10 homes will front Park Avenue. Each townhome includes 3,300 to 4,300 square feet of living area, private elevators, first floor courtyards and covered rooftop terraces with summer kitchens.
The complex is surrounded by a decorative iron fence with gaslights topping brick columns. The walkways are bluestone. We have renderings on the blog.
I wish that I'd made different life choices so I could listen to this story and say to myself "Wow I wish they would have read off the name of the realtor!" But no, I made some rather poor life choices. So here I am. Doing this. Being me.
And finally, Oh eff you downtown developers with your shifty fingers and puss-dripping grins. While us plebian locals have been mind-fucked into thinking downtown Orlando is the future, watching skyscrapers announcements pile up and gaggles of apartment buildings sprout up, you're busy killing any chance of a decent RETAIL scene coming to downtown! You're charging retail rents only vomit-spotted brands can pay. We SHAT ourselves when we got a Walgreens. AN EFFING WALGREENS.
Now downtown Orlando's SEVENTH 7-11 is coming to the very last vacant commercial space in Crescent Central Station's already shitty ground floor retail lineup. In the pre-construction renderings, the word "restaurant" sits elegantly above the entrance of the space. In the Master Sign Plan for this space submitted to the City, the 7-11 logo death drops to a squat waiting for applause.
No restaurant. All bullshit.
This building's entire retail offering is crap including:
Planet Smoothie

Dunking Donuts

Philly Connection

Elegant Cleaners Tailor

Envy Nails & Spa
Go to hell downtown developers. We see you."