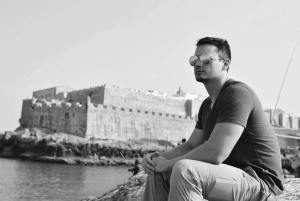 Episode 94 – pooping on the battlefield, motorcycling accross africa, raising kids with monkeys, fancy swords & opening a brewery – a conversation with Doug Meyer.
this one starts out kinda rough. we literally get our guest name wrong. DOUG MEYER is cool though. he takes it all in stride. he's beyond letting little things bother him. marine, entrepreneur, brewer, scholar & total badass. our little mistake doesn't mean a thing to dudes like DOUG.
in this episode we cover all this & a lot more:
brewing beer & having it be the liquid form of expressing yourself
being a rifleman in the united states marines
the difference between being intelligent, wise & clever
punching your dad & a boy names sue
raising babies to walk only on their hands
homemade biscuits & gravy
showering, pooping & masturbating during times of war
risking your life to get a really good facebook photo
being the king of porn
BIG THANKS TO DOUG FOR HANGING OUT
CHECK OUT HIS LINKS:
https://www.facebook.com/pg/TacticalBeer/about/?ref=page_internal
https://www.instagram.com/tacticalbrewing/
https://twitter.com/Tactical_Beer
PLEASE SUPPORT OUR SPONSORS:
REDLIGHT REDLIGHT BEER PARLOUR
PLEASE CONSIDER VOTING FOR US IN BEST OF ORLANDO 2017:
http://streetapp.com/l/Best-of-Orlando-Readers-Poll-2017-/Ballot/LOCALCOLOR
ORDER OUR STUFF:
T-SHIRTS:
https://represent.com/store/scotch-and-good-conversation
STICKERS:
leave your name, shipping address & a small donation on the DONATE button on the left or email us at: scotchandgoodconversation@gmail.com
we love you guys!