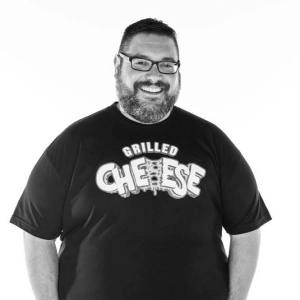 episode 123 – sandwiches, t-shirts, pig's brains, cuba, the squatty potty & deli fresh threads – a conversation with anthony "biggie" bencomo
ANTHONY BENCOMO loves sandwiches, t-shirts & orlando. we talk about all of that & more.
besides sandwiches, t-shirts & orlando, we cover:
packing lunch for outer space
braille, blind people, money & honesty
why having directions on shampoo is sorta stupid
apologies, accepting them or making an exit plan & getting out
what's the point of fashion & hurting in order to look good
being the condiment king, spicy mustard & why mayo is kinda funny
leaving home & when happiness comes out of a bunch of crap
being an angel of hope to people who really need it
the pros & cons of saying "screw it" & putting all your cards in
having to tell your wife that you're dying inside
figuring out how to get to the next level
life changing events, how to deal with them & how they change us
big thanks to anthony for the shirt, the conversation & for hanging out. check out all his links:
https://www.facebook.com/DeliFreshThreads
https://www.instagram.com/delifreshthreads/
https://angelofhopecfl.wordpress.com
PLEASE SUPPORT OUR SPONSORS:
REDLIGHT REDLIGHT BEER PARLOUR
ORDER OUR STUFF:
T-SHIRTS:
https://represent.com/store/scotch-and-good-conversation
STICKERS:
leave your name, shipping address & a small donation on the DONATE button on the left or email us at: scotchandgoodconversation@gmail.com
we love you!